client testimonial – Fin Hamill
Are you thinking about signing up, but you're unsure? Here's some words from one of our clients, Fin, telling you all about his journey with one of our coaches.
Why did you sign up to One Coaching?
I signed up to One coaching as I'd been in the gym training for a few years but knew I wasn't making the progress I thought I was capable of. My training lacked discipline and structure, and I'd often second-guess myself on where to take my training and nutrition next. My physique had pretty much stagnated. I've known Harry for a few years now, and when he approached me about the service I was in a spot where I knew I could fully apply myself – so really signing up was a no brainer for me.
What did you want to get out of working with a coach?
The main thing I want to get out of the service is developing new lifestyle habits and creating training, nutrition, and recovery frameworks that I can rely upon for years to come.
What is your overarching fitness goal? 
My overarching fitness goal is undoubtedly to gain muscle. Like most people I also want to be 'beach ready' at some point in the summer months too, for holidays etc.
How has having a coach helped you work towards your goals?
Working with Harry has provided me with all the aspects of training that I was lacking before. I now have a science-based program that has been tailored to suit my goals, physique and preferences, a diet plan full of practical foods that I enjoy and can access easily, and the weekly check-ins have allowed an open discourse to be maintained between coach and client – the relationships that this builds is something I think is a real unique selling point of the service. 
What have you learnt from working with a coach? 
In the 6 or so months that Harry and I have been working together I have learnt so much. From the basic biomechanics involved in the movements I perform, to how the macronutrients in the foods that I consume elicit certain results. Maybe most importantly of all is how I've learned to develop a proper routine.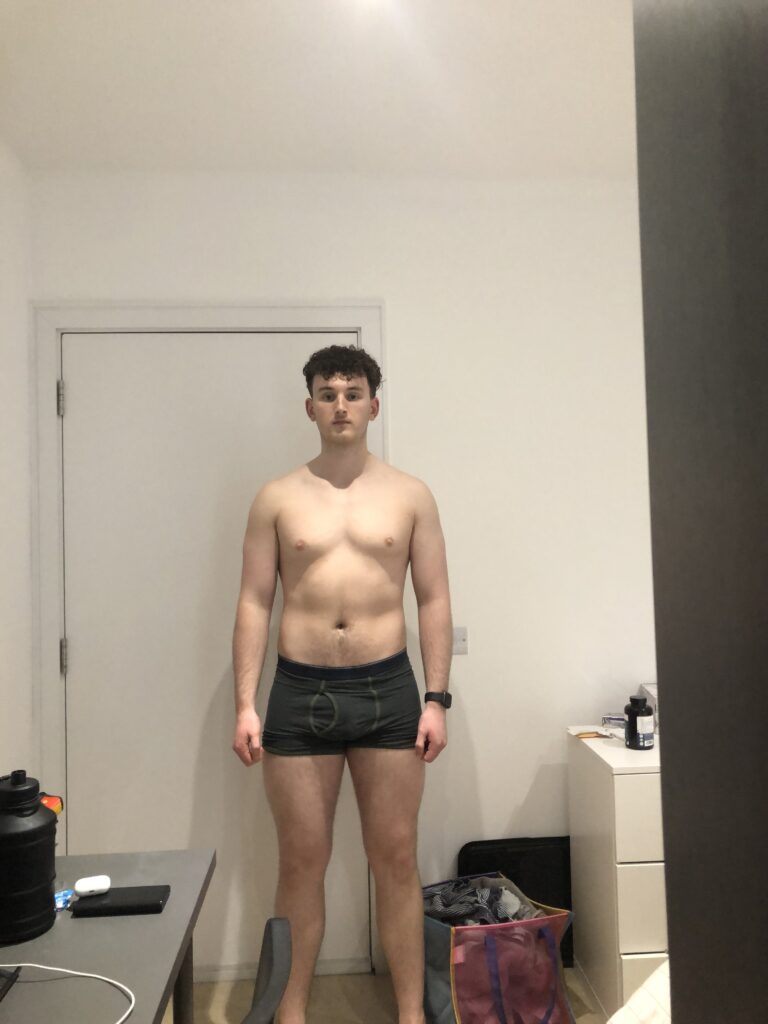 How has embarking on this part of your fitness journey affected your lifestyle?
As mentioned above, the routine aspect has been key for me. As someone who can be guilty of overthinking the minutia, rather than focusing on the bigger picture and making sure I have the basics locked in. The service has allowed me to park that mindset and develop a much more positive outlook on my lifestyle.
Can you give us any insight into how your life is balanced in terms of fitness, socialising and work? Has having a coach helped with this?
I am definitely balancing my social life, work, and training much better now. The fact that I am held accountable to a degree really motivates me to stay locked into my goals.
What would you say to people who are thinking about getting a coach, but aren't sure?
Lastly, to anyone reading this who is on the fence about getting a coach I can honestly say you won't make a better decision than to start asap. I fully believe that since I know I would have never made the same amount of progress in the 6 months if I hadn't been working with Harry.
Want to make progress like Fin? Book a call with one of our coaches today!